We've compiled this guide to assist our cherished customers in getting ready and grasping what's in store for their forthcoming flooring endeavor. Whether you already have a flooring project underway with us or are simply seeking more insights, we aim to provide clarity about the Lady Baltimore Floors process.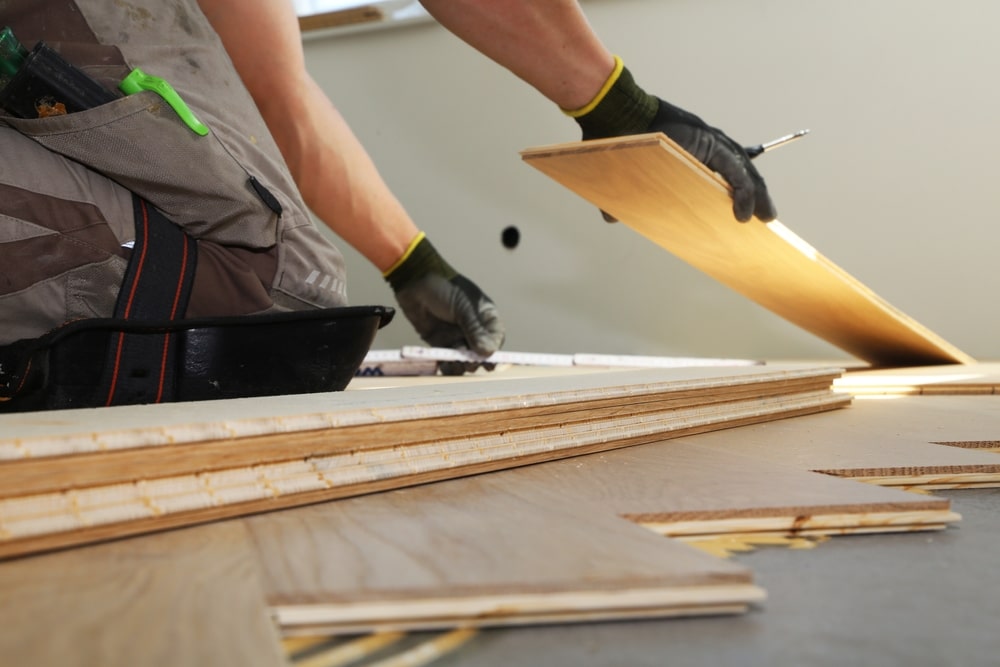 Scheduling

When it comes time to schedule your work, please sign the proposal and mail it in with a one-third deposit. For your convenience, we accept Visa, Master Card, Discover, American Express, checks and cash. Once we receive the signed proposal and deposit, we will contact you to schedule the work at a time that is agreeable to everyone. We are generally booked two weeks in advance, although that varies at different times throughout the year. When we contact you to schedule your job, we will give you an estimate as to the amount of time needed to complete your job. Please understand, though, that this is a best guess scenario due to the peculiarities inherent in the stains and finishes that are used. Some jobs may take longer than anticipated due to varying weather conditions or other unseen factors. Please do not expect our crews to be at your job site first thing every morning. Due to conditions mentioned above, we cannot determine a specific time of arrival each day. Please make the proper arrangements to allow us access to your job site. This would include meeting us at the site, having someone else meet us there, leaving a door open or leaving a key in a prearranged location. We can also use a combination lock box and keep the key at your house until the job is complete. Please make sure that the office also has alternative ways to contact you in case of emergencies.

Lady Baltimore would like to receive the balance payment on the day the final coat is applied. Please make arrangements to have the payment available for us to pick up or to process on the final day.

If there are any oversights or problems with the job, please contact the office as soon as possible to schedule a service call. After all we are human and do occasionally make mistakes, so we will attempt to address as soon as possible.
Furniture & Appliances

If Lady Baltimore Floors is moving your furniture, please move any small items such as chairs, small tables, and knickknacks. Additionally, you will need to empty all bookshelves and closets; take down drapes, remove linens, remove curtains, vertical blinds, and pictures; and disconnect any computers, TVs, and other electronic devices. Please keep in mind that dust is a byproduct of the installation and sanding process, and remove from the work area anything that you do not want to get dusty. If there is not enough space to store all the furniture that is in the work area, your project will need to be completed in phases. We would much rather do jobs in one phase, but this is not always possible. When doing jobs in phases the customer takes a chance that this may result in lap marks or slight sheen variation. This is due to the fact that not all containers of polyurethane are exactly the same, and this is completely beyond our control.

Lady Baltimore employees are highly trained flooring technicians, but we are not electricians or plumbers. With that in mind, we prefer to leave the removal and replacement of refrigerators, toilets, stoves, washers, dryers, and other appliances to the professionals. We ask that if you need an appliance moved for the work to be completed, please make the arrangements with the proper company to do so. The only exception to this is if moving the appliance does not require disconnecting any tubes, pipes, wires, etcetera. If we are removing and replacing any appliance it will be noted and priced on your proposal. If you do not see a note or charge on your proposal for moving an appliance, we agreed to move please contact the office. If needed, Lady Baltimore Floors can recommend a licensed plumber and/or electrician to handle any items that may be required to be moved.
Carpet, Ceramic & Sub Flooring Removal

If we remove carpet, we may find pet stains, water-damage, razor marks from a previous carpet installation or other unforeseen damage. In most cases, sanding will not fix these areas depending on their severity. The only way to repair troublesome spots is to remove and replace them. Unfortunately, this will most likely delay the job by a minimum of one day (likely to be longer depending on our schedule). We will evaluate the damage and inform you of the options, giving you a price for each one. We will need some form of written confirmation before we proceed with the additional work. All carpet will be disposed of unless otherwise instructed. If the customer has selected to do the removal of the existing floor covering, they are responsible for the complete removal and prep of the subfloor. If any prep is still required, additional charges will apply.

Ceramic and sub floor removal can also create some problems because we do not know exactly how they were installed, whether they were glued, screwed, etc. While removing tile, the tile must be broken up first prior to removing the plywood underlayment. During this process, chips of tile may damage walls. While we do try to keep this to a minimum, do expect to do some touch ups. If we run into any problems during removal, the homeowner will be notified immediately and options will be given, priced and OK'd. Lady Baltimore will remove all take-up from the premises unless otherwise instructed. If the project is on a larger scale, Lady Baltimore Floors may have a dumpster placed on site and removed as soon as take up is complete.
Hardwood Installation process & Procedures

Stock wood inside 1-4 days before installation for acclimation to moisture and humidity.
Install proper underlayment as needed.

Install flooring according to NWFA standards.

(Floors that already come sanded, stained & finished)

(One of the reasons most pre-finished floors come with bevels or micro bevels, is to hide over wood.)

(Floors that are sanded, stained & finished in your home)

Lady Baltimore will not be held responsible for moisture and humidity problems that arise after a floor has been installed (i.e. water leaks, basement leaks, or lack of climate control). The climate should be kept at a steady temperature before, during and after installation. A lack of moisture will cause slight gaps and cracks in the floor, while having too much moisture can cause the floor to cup. The National Wood Flooring Association (NWFA) recommends that the area should be kept at a 45 to 50% relative humidity. All of Lady Baltimore's installations are tested prior to work being started, and we do our best to try to eliminate any such problems. If you need more information on moisture or moisture related problems, please contact the office.

Lady Baltimore will be contacting you prior to the delivery of the wood to your home letting you know the day it is scheduled so that you can make arrangements to accept the delivery. At that time, they will probably not know the time frame for the delivery, but we will be calling you back once again, approximately one day prior to your delivery to advise you of either a morning or afternoon delivery. In most cases, we can not give an exact time for the wood delivery as it comes directly from our supplier to your home. The wood can not be stored in a garage, shed, basement or porch. The purpose of the delivery is to allow the wood to acclimate to the same temperature and humidity as in the room that it is to be installed.
Sanding, Staining & refinishing Procedures

Sand Floors (Coarse/Medium/Fine) as per National Wood Flooring Association Principles and practices.
Screen Sand (Fine)
Tack Floors
Stain (Optional) Most stains need to dry overnight. White, black or pastel stains may need to dry for 72 hours depending on the weather. Selecting one of these types of stains may result in additional charges.

With the newest water-base technology, Oil & Water based polyurethane both hold up the same when it comes to longevity. Both products are maintained the same. As a general rule, the floors should be re-coated within three to five years depending on the amount of traffic. Re-coating consists of buffing the floor with a synthetic pad and applying more polyurethane. If you select the commercial finish upgrade, you can extend the life of your finish five to ten years. If you plan to stay in the home during the project, we would recommend using the water-based products. Depending on the color you select may also determine the type of finish to be used. The oil-based finish will darken and amber with age, whereas the water-based products will tend to lighten with age. We are able to use a quick dry oil sealer to minimize the lightening process. We highly recommend using one of the commercial grade top coat finishes for optimum performance.

Oil Modified Polyurethane

Note: Over the years we have had a few instances where polyurethane has dripped through old or gapped floors into a customers basement. Lady Baltimore will not be held responsible for this situation if it arises. Please make sure to cover any valuables, carpets, etc in case of leakage. This situation is rare, and has only happened a few times, but it is beyond our control.

If we are supposed to apply a stain to your wood floors, then we need to know the exact color. If you are unsure as to the color you wish to use, please plan for someone to be at your job site on the first day of the sanding process so that we may do a stain test for your approval. If this is not possible, please notify the office so that we can arrange for the test to be done at a more convenient time. When staining dark colors, it is virtually impossible not to get a minimum amount of stain on your door jams, spindles, side skirts, etc, so please be prepared to do some touch up painting. Also, when changing colors from very dark stain to natural or light stain, it is impossible to remove all the dark stain from open grain areas, especially where hand scrapping is involved. Note: Some nail holes & Razor Knife marks that are black, due to the fact that they have gotten wet in the past, will not sand out.

We will install all moldings and/or reducers at the time of the final coat of polyurethane. We stock most standard sized reducers and molding. If needed, these items should be priced on the estimate. If not, it will need to be priced at that time.

On existing floors, Lady Baltimore does not recommend filling seasonal gaps. Due to the nature of wood, gaps will open and close as the humidity rises and falls. This motion will force out any putty used to fill the gaps.

Sanding is a dusty business, and while Lady Baltimore Floors collects approximately 80% of the dust we generate, the other 20% may be distributed throughout your home. We typically put plastic up in doorways, but we will not be responsible for any paint that may be removed resulting from taping the plastic up. We use very expensive painter's tape, guaranteed not to remove paint, but unfortunately, in some cases, it does remove loose, very old, or newly painted areas. If we do leave a thin layer of dust, we do apologize, but a quick vacuum or use of a static duster through the affected area is all that is needed. Since we typically need the HVAC system up and running for certain parts of the year to help with proper drying, we also recommend that you change your heating or AC filter after the job is completed.

When asked to screen and coat an existing floor, Lady Baltimore will not be held responsible for polyurethane that does not adhere to the floors. This is caused by the fact that we do not know what was used to clean the floors in previous years. Some cleaning products cause adhesion problems.
Stairs

When getting new steps in your home, Lady Baltimore installs solid Treads and Risers over the existing paint grade or carpet grade steps. This process will not only add beauty to your home, but it will increase the value of your home. When we install your new stairs it gives the appearance that the steps were built with the house. There are a few things that you need to be aware of if you decide to have new steps installed.

When working with existing stringers, which are the parts on the sides of the steps, these boards are very seldom square and most of the time slightly twisted. Lady Baltimore will custom fit to the stringers the best we can, if we do leave little gaps in these areas it will be filled with painter's putty by Lady Baltimore Floors and ready for touch up painting by the homeowner. You should plan on painting the stringers after the finishing of your new steps. We also offer the choice to use primed riser material so that you may have a painter paint them any color you would like.

Again, since we are putting new treads on top of old treads, there are occasions in which the new tread hangs out past the stringer. Another thing to be aware of is, there are times when there is a slight gap between the new tread and the new riser that results from the un-level existing tread, unfortunately there is nothing we can do about this since it is a result from the old treads. As with the floor, steps are only as good as the substrate that they are installed on.

We also offer pre-finishing the steps at our shop to match any prefinished material. Any existing railings that are attached directly to a tread that you will want to keep must be removed prior to our installation, if you are planning on getting new rails we can do the demo, but it is your responsibility to have a new one installed promptly or a temporary one for safety purposes.

All regular trim and moldings used for the new installation are included in your stair price, custom moldings are priced separately, and as always if you have any questions, don't hesitate to call the office.
Trim & Light Remodeling

Lady Baltimore Floors offers a full line of trim— specializing in baseboard, crown molding, chair rail, recessed panels, and door/window casing. Trim comes in a variety of solid wood species, which we finish to either match your new floor or provide primed material ready to paint. While completing your flooring project, installing decorative trim will add aesthetic value to any room.
Lady Baltimore would like to receive the balance payment on the day the final coat is applied. Please make arrangements to have the payment available for us to pick up or to process on the final day.

If there are any oversights or problems with the job, please contact the office as soon as possible to schedule a service call. After all we are human and do occasionally make mistakes, so we will attempt to address as soon as possible.

Lady Baltimore Floors has teamed-up with licensed, bonded, and insured contractors for which we highly recommend to provide any work on electrical, plumbing, painting, and a variety of other phases of remodeling. These contractors have been hand-selected over the years of serving many satisfied customers. Extending these contractor's expertise allows us to better serve homeowners and ensure a great finished product.